The Project is COMPLETE!
After more than a year of construction and anticipation, the new Emergency Service Education Center is complete. The new space provides the addition of 27,000 square feet and 24,000 square feet of remodeled space. The generous support of the community made the space possible, including state-of-the-art tactical and physical training spaces, equipment bays and classrooms.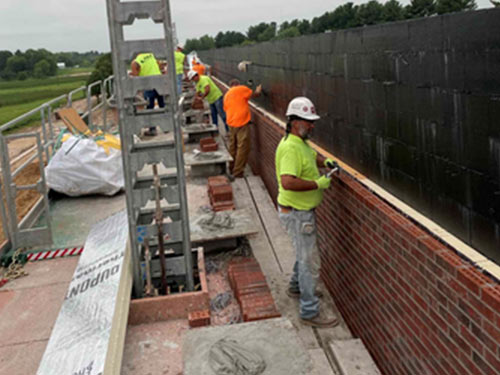 Project Brief
Expansion and renovation of the Emergency Service Education Center to better prepare graduates and local public safety professionals, including volunteer fire departments, for service to the community. This project will allow for enhanced continuing education opportunities for emergency service agencies in our communities and extend opportunities for community education courses.
The Need
Instructional requirements in the emergency services industry have changed; real-life simulations now play a more significant role in program instruction, and current facilities are unable to accommodate these requirements
Current defensive tactics and fitness training rooms are outdated and inadequately sized
Inability to replicate real-world distances and situations within current firearms range
Increased program student population requires additional classroom spaces
Staff office and meeting space is currently limited and requires improved access
Additional space needed for the firefighter Candidate Physical Ability Test (CPAT)
Existing training spaces are outdated and insufficient, limiting the College's ability to offer specialized police, fire, and EMS continuing education training
Why Now?
Emergency service organizations such as township fire departments across the district depend on CVTC to meet the training requirement needs of today and the future. The Law Enforcement, Criminal Justice, FireMedic, and Paramedic programs require updated simulation labs, flexible tactical training spaces, renovation and expansion of the law enforcement firearms range, and updated physical endurance testing and certification rooms to receive the very best training to keep them safe and to serve and protect communities.
Project Goals
Develop a multi-use training facility that meets curriculum requirements
Create a defensive and arrest tactics room to provide a safe training environment to better prepare first responders
Expand and renovate the firearms range for ensured safety and enhanced scenario-based training needs
Enhance training space and simulation labs to better prepare local police, fire, and emergency medical services to protect and serve the community
Develop a room for the use-of-force simulator
Conduct training and provide employment eligibility lists to regional police and fire departments to meet their hiring demands
Create a more collaborative and inviting learning environment with the addition of a new commons area
Keep training spaces modern and up-to-date with current industry trends and equipment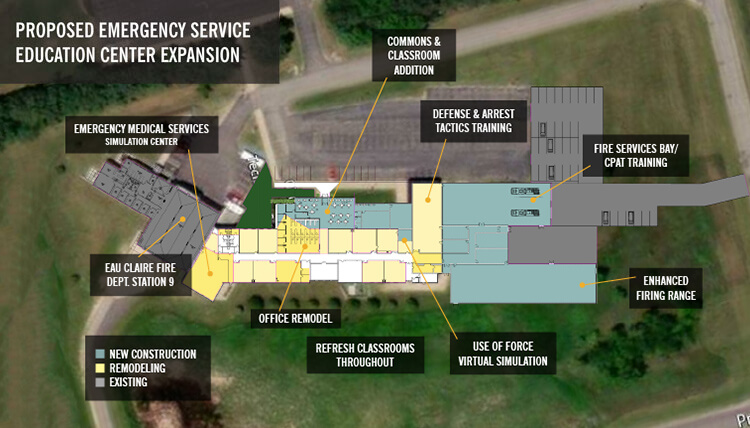 Addition:

27,800 SF
Remodeling:

24,400 SF
CVTC offered me a wonderful opportunity to prepare myself for the next step in my life. The staff was incredible and resourceful. The school offers a rich and full education.
–Hannah W, Emergency Medical Technician Graduate
Learn More About Other Referendum Projects
Construction
Transportation Education Center
Increase capacity for student enrollment to address the workforce shortage.
Addition
Manufacturing Education Center
Update technical components and construct an automated fabrication lab.
Enhancement
Additional Campus Renovations and Expansions
Update current facilities to serve our growing student body.