JOIN US ON NOVEMBER 2, 2023 | CALL US AT 715-833-6300
CVTC Fall Open House
// Thursday, November 2, 2023
// 3:30 – 7 P.M.
// Business Education Center
Come explore CVTC —
A college for you, for life!
Whether you're still in high school or an adult looking to start a new career, Chippewa Valley Technical College is here to help you take the next step on your educational journey.
Join us at our Fall Open House to check out the Business and Health Education Centers, meet with instructors, advisors, and current students, and discover why our 110+ fast, flexible, and affordable programs are the right choice to get you started in a great-paying, rewarding career.
Attend this event to:
Learn more about our 110+ programs
Meet our friendly instructors, advisors, and staff
Tour the Business Education and Health Education centers
Explore services available to students such as Student Life, Academic Support, and Diversity Resources
Learn about the admissions process and even apply at the event
Enter to win a $250 CVTC scholarship!
Interested in starting a program at CVTC? Attend our Fall Open House to meet CVTC's industry expert instructors, chat with current students and find out what a CVTC program is really like. You'll get all your questions answered by our Admissions Advisors, and if you're ready to apply, we will help you apply at the event and provide a promo code to waive the $30 application fee!
Register for a chance to win a $25 Amazon gift card!
Be sure to stop by the prize table at the event for your FREE GIFT!
We will never share or sell your information outside of CVTC. We may, on occasion, contact you regarding relevant services, events, and materials. You may opt out at any time. View our privacy policy to understand how we collect and use your information.
There will also be drop-in, break-out sessions to help you on your way to becoming a CVTC student. Check out break-out sessions.
Looking for more reasons to
join us at the next Fall Open House?
Here are just a few:
CHOICES
CVTC offers 110+ programs, 37 certificates, 16 apprenticeships, and provides training to over 100 local businesses every year.
AFFORDABILITY
Programs at CVTC cost a fraction of what other institutions and universities charge. Whether you take general education classes or a full program, CVTC saves you time and money!
RETURN ON INVESTMENT
For every $1 a student invests in their CVTC education, they receive a return of $5.10 in higher future wages. The proof is in the paycheck!
JOBS
95% of our recent graduates are employed in their field six months after graduating, and 86% of graduates find jobs in Wisconsin! CVTC supports our local communities.
SALARY
CVTC grads are landing great jobs and making great money! Associate degree graduates make an average starting salary of $54,110!
AVAILABILITY
CVTC is where you are. We have 12 campuses in campuses in Chippewa Falls, Menomonie, Neillsville, River Falls, and Eau Claire, along with a wide selection of online opportunities.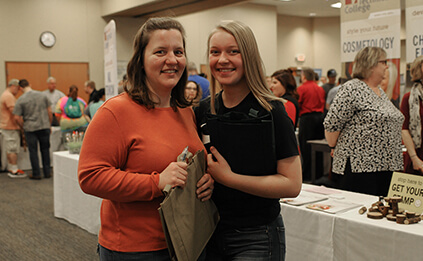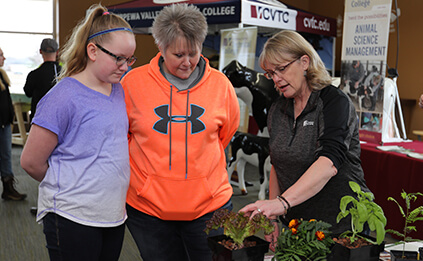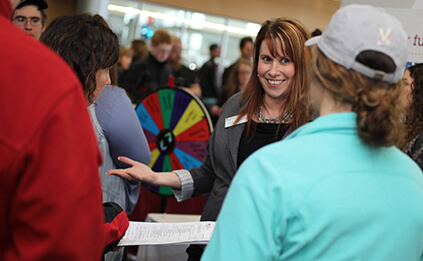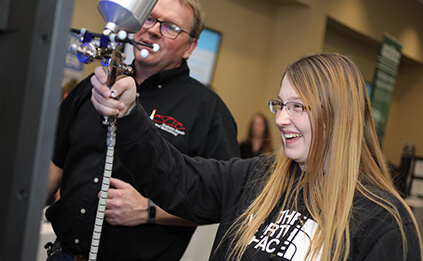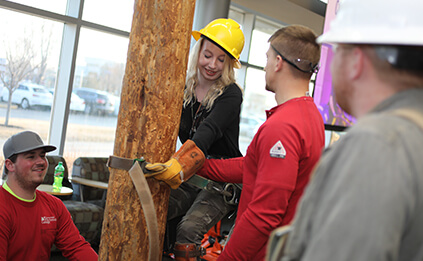 Check out the breakout sessions
Career Exploration
Not sure which program is right for you? That's okay! With 110+ programs, not to mention 37 certificates and 16 apprenticeships, there is a lot to choose from. Sit in on the Career Exploration breakout session where you'll learn more about how to select the perfect career for you, complete the career assessment, and connect with our Career Specialists who will guide you on your path.
Financial Aid & Scholarship Quick Stop
Did you know nearly 75% of CVTC students utilize financial aid? Don't go through the confusing world of financial aid and scholarships alone! Get your questions answered about financial aid and about scholarship opportunities at CVTC. We can even assist you with the FAFSA the night of the event.
CVTC Application Workshop
Attend this session if you're ready to apply to CVTC. Our Admissions Advisors will take you step by step through the application process. Make sure to have your ID, social security number, and program of choice ready. The best part about this session? We'll waive the $30 application fee for anyone who applies at the event!
Health Education Center Tours
Enter the world of health education as you attend group tours of our Health Education Center. Located just across the footbridge from the CVTC Business Education Center, this building houses all CVTC health programs. From Nursing to Medical Assistant, Dental Hygienist to Physical Therapist Assistant, take a tour of the building and the programs taught there.
We can't wait to see you at our Fall Open House!