Thank You!
We want to express our everlasting gratitude to the community for trusting CVTC with your vote. Your confidence allows us to move forward with our referendum projects and achieve our goal of positively impacting the quality of life in our area through education.
Campus Improvement Projects
Construction
Transportation Education Center
Increase capacity for student enrollment to address the workforce shortage.
Expansion & Remodeling
Emergency Service Education Center
Meet current and future training requirements for emergency services.
Addition
Manufacturing Education Center
Update technical components and construct an automated fabrication lab.
Enhancement
Additional Campus Renovations and Expansions
Update current facilities to serve our growing student body.
Campus Improvement Projects
See How CVTC

Impacts Our Community.
The quality of life we all enjoy in the Chippewa Valley is directly dependent on the quality of education we provide here at CVTC.
Fulfilling Our Mission
CVTC delivers innovative, applied, and flexible education that supports a diverse community of learners, improves the lives of students, and adds value to our communities.
Percentage of CVTC graduates employed within 6 months after graduation
CVTC offers over 110 programs, 37 certificates, and 16 apprenticeships
Percentage of graduates who find employment in Wisconsin after graduation
Total number of students CVTC served in last year
Average starting salary of CVTC associate degree graduates
The CVTC District
Chippewa Valley Technical College is part of the Wisconsin Technical College System and serves an 11-county area. Campuses are located throughout the district including multiple locations in Eau Claire and in the Chippewa Falls, Menomonie, Neillsville and River Falls communities. The College is one of 16 WTCS colleges located throughout the state. CVTC has an appointed district board consisting of nine members who serve three-year, staggered terms.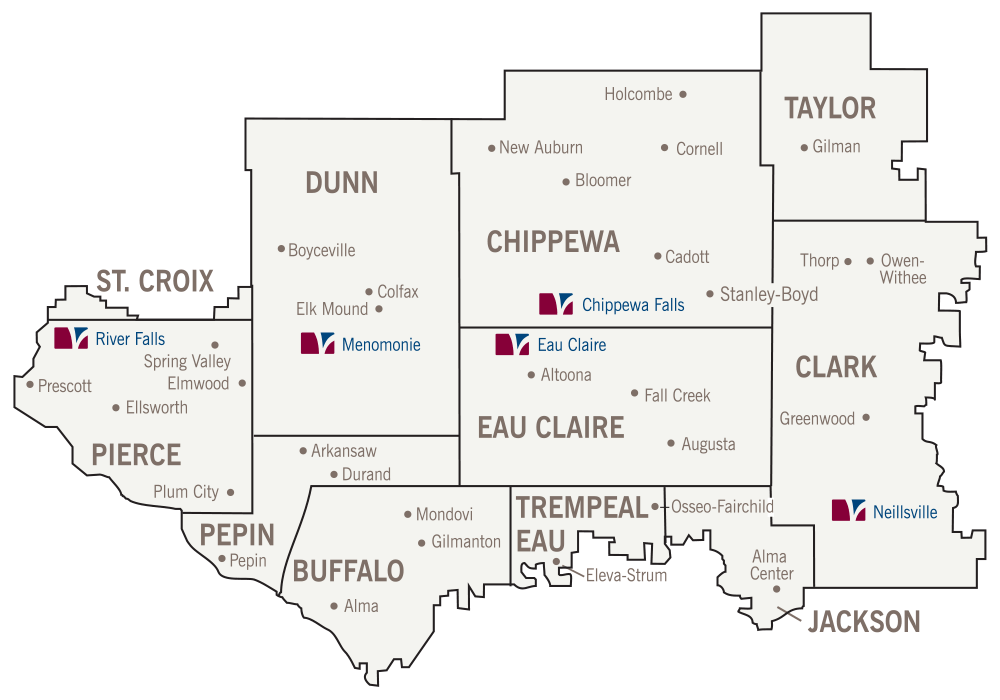 Addressing Regional Workforce Needs
RESPOND
to the growing workforce labor shortage in the Chippewa Valley
ACCOMMODATE
evolving technology and industry expectations
IMPROVE
safety and security on campus and in our communities
PREPARE
for the future by making structural improvements and land investments