Friday, April 8, 2022
CVTC honors business partner, alumni at Spring Gala event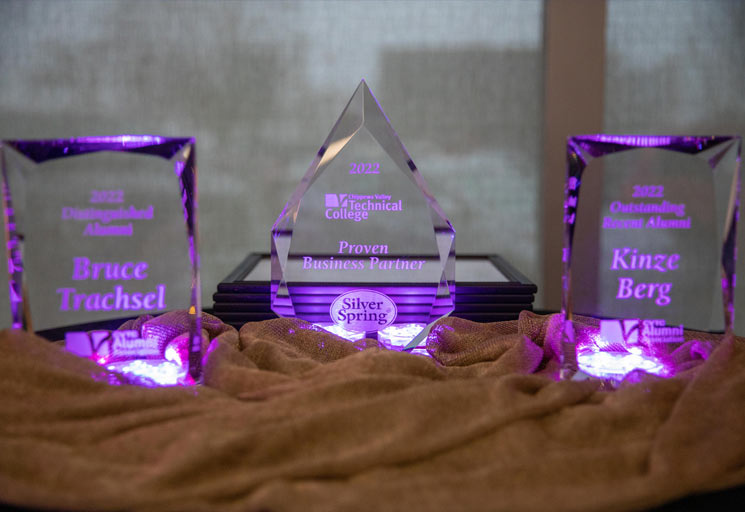 ---
After several years of mutual support, the world's largest grower and processor of horseradish has been named Chippewa Valley Technical College's Proven Business Partner for 2022.
The award was presented Thursday, April 7, at the Alumni Association's annual Spring Gala. Also honored were Kinze Berg, registered respiratory therapist for Mayo Clinic Health System, as the Outstanding Recent Alumni; and Bruce Trachsel, B&B Electric project manager, as the Distinguished Alumni.
Silver Spring Foods, Proven Business Partner
Silver Spring Foods, founded in 1929 and based in Eau Claire, is led by Eric Rygg – great-grandson of the late Ellis Huntsinger, who began the successful business. Rygg, originally from California, moved to Eau Claire and took over as president in 2018.
Since then, he's been working on four areas of interest – being a great place to work, offering the promise of making food taste better, weaving the Silver Spring Foods brand into the fabric of the community and "making the world a tastier place."
Rygg said several of those pillars contribute to a strong partnership with CVTC and other organizations in Chippewa Valley communities. Silver Spring Foods weaves its brand into the community by sponsoring the Eau Claire Marathon, Country Jam, Eau Claire Express and other local partners, as well as hosting the 2021 Farm Technology Days and being a staple in CVTC's culinary management program by, among other things, donating a food trailer to be used as a mobile culinary lab.
"There is a symbiotic relationship with employers and the training that CVTC provides, so we have a better, more skilled workforce," Rygg said. "It's been a mutually beneficial partnership. It's not just what we can do for CVTC, but what CVTC can do for us."
Kinze Berg, Outstanding Recent Alumni
Berg comes from a long line of relatives and friends who have attended Chippewa Valley Technical College. As a graduate, Berg sings the praises of the college that helped get her where she is today.
"To have that connection and background is something special – like I'm continuing a legacy," she said.
Berg has been chosen as CVTC's Outstanding Recent Alumni for her dedication to the college and success in her field. At 23, Berg, of New Auburn, is a registered respiratory therapist for Mayo Clinic Health System. She graduated from the Respiratory Therapy program at CVTC in 2018. She applauds the college's tools and resources that helped her reach her career goal.
"CVTC is not only a foundation for success but also success as a human being in society," Berg said. "Yes, you learn how to be successful in your career, but you learn things about yourself you didn't even know were possible."
Initially, Berg had her heart set on working in neonatal and pediatrics, but as time went on, she found herself being drawn more towards the respiratory care team at Mayo Clinic. She changed her track and was happy she made the leap and looks back fondly on her time at CVTC.
"I had the time of my life at CVTC and would do it all over again in a heartbeat," Berg said. "To say I am proud would be an understatement."
Bruce Trachsel, Distinguished Alumni
Bruce Trachsel never subscribed to the notion that helping new electricians in the field would take work away from him. Instead, he has always been heavily involved in mentoring people interested in electrical work.
That's one of the reasons Trachsel, 62, of Fall Creek, who graduated in 1984 from the Chippewa Valley Technical College Electrical Apprenticeship program, was chosen as the college's 2022 Distinguished Alumni.
"The guys I worked around – they weren't good about helping you out," Trachsel noticed when he first started in the business. "The more you can help the young ones coming in, the more you take the pressure off of yourself."
Trachsel praises CVTC for having the most up-to-date technology, offering night classes, hiring stellar instructors, and "putting young people in the right spots" for hands-on learning. He said attending CVTC is rewarding because students gain immense knowledge from the instructors. Then they get their foot in the door with a company that trusts their skills as he did.
"This has been a very fulfilling career," Trachsel said. "If I had to pick a career again, I'd do all over. I like to influence the students at CVTC so I can give back what I've learned."
Latest News at CVTC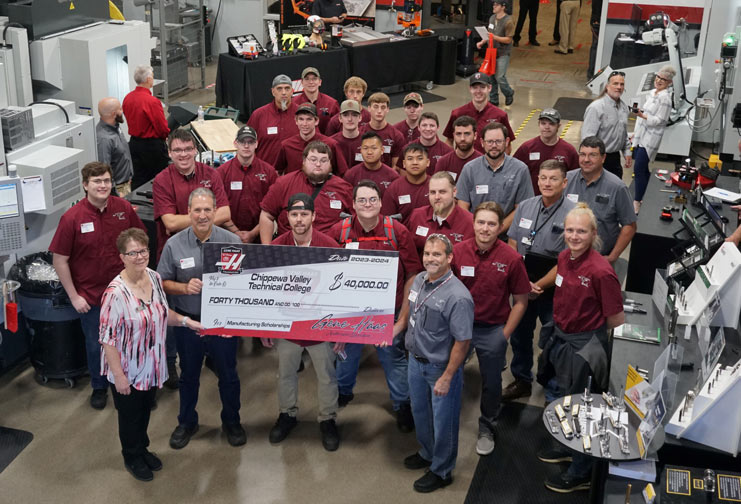 November 20, 2023