Wednesday, November 2, 2022
CVTC manufacturing, mechanical design programs receive national accreditation
---
Chippewa Valley Technical College is proud to share the Manufacturing Engineering Technologist and Mechanical Design programs are now accredited through ABET.
ABET accreditation assures that programs meet standards to produce graduates ready to enter critical technical fields that are leading the way in innovation and emerging technologies, and anticipating the welfare and safety needs of the public.
According to ABET, its voluntary peer-review process is highly respected because it adds critical value to academic programs in the technical disciplines, where quality, precision and safety are of the utmost importance.
This accrediting organization for engineering programs in the United States, ensures that CVTC engineering programs provide standards of "academic rigor," said Hans Mikelson, program director of the College's Manufacturing Engineering Technologist program.
"Students who earn degrees from accredited engineering or design programs can be confident that their educational experience meets the highest standards," Mikelson said. "It can also enhance employment opportunities, as many corporations require graduation from an ABET accredited program."
CVTC is the only two-year college in the state to be accredited for its Manufacturing Engineering Technologist program. And it's one of two technical colleges in the state to be accredited for Mechanical Design. ABET accreditation reviews look at program curricula, faculty, facilities, and institutional support and are conducted by teams of highly skilled professionals from industry, academia and government, with expertise in the ABET disciplines.
"The accreditation agency promotes program excellence through continuous quality improvement," Mikelson said. "ABET accreditation is recognized through industry and academia to ensure that graduates have met the educational requirements to succeed in their profession, whether it is locally, nationally, or internationally."
Jeff Sullivan, CVTC dean of Integrated Technologies, said this is the "gold standard" the College has been pursuing in accreditation. Sullivan said CVTC began the process of the ABET accreditation in 2019. It's the first time CVTC has been awarded the accreditation.
"The accreditation highlights the strong relationships developed between Chippewa Valley Technical College STEM programs and our advisory partners," Sullivan said. "We have strong programs in Mechanical Design and Manufacturing Engineering technology based on student and employer feedback. The ABET accreditation reenforces the value our program provides our students and employers."
Sullivan said the programs have gained from the process, including feedback and the opportunity for continuous improvement. The outside entity provides a standard and systematic review for these programs, he said.
"This has caused us to look at what we teach and how we validate what we teach," he said.
Sullivan said the accreditation also helps students in those programs who would like to transfer to local university partners in the future because CVTC's university partners have the same accreditations through the same entity.
Latest News at CVTC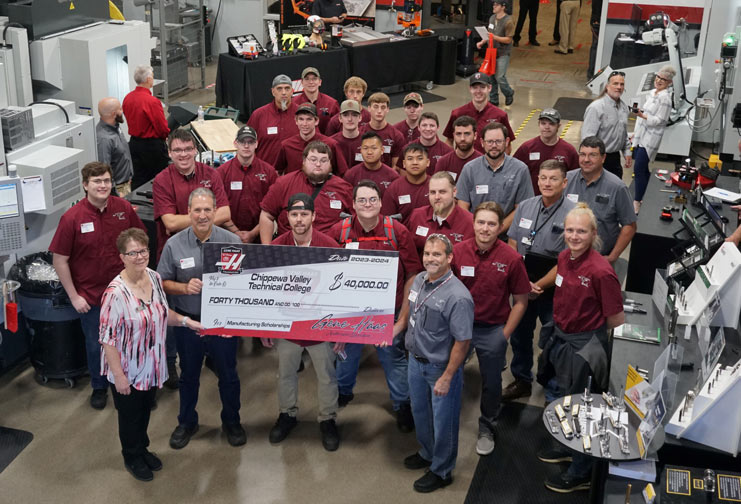 November 20, 2023