Voices of the Valley: Meet Keum Hee (Rosa) Choi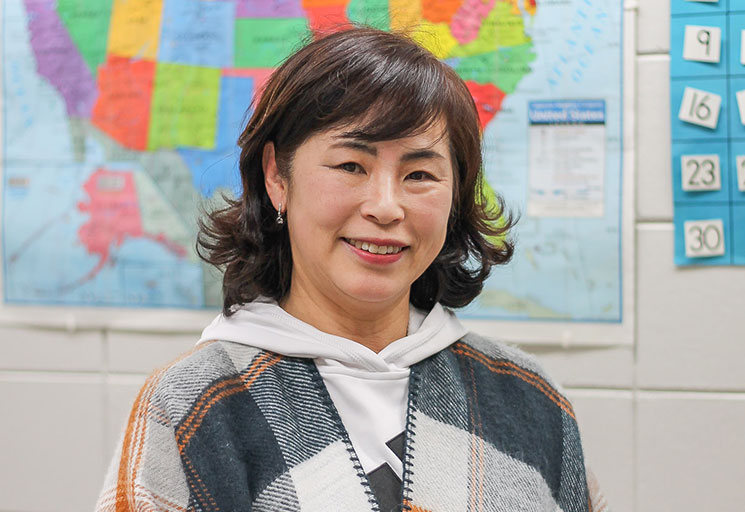 From: South Korea, Current City: Menomonie
---
When I was four years old, my family lived in Seoul. Mom, dad, older sister, younger brother, and me. Mom was pregnant. Relatives lived in my neighborhood.
In Korea, there is a concept to shared parenting, so we used to eat our snacks together at any house while playing. We also used to go to the old palace as a group or go to an amusement park.
To celebrate Children's Day on May 5th, we decided to go on a group trip to Namsan (Nam: South; San: Mountain), a very famous mountain in Korea, in the middle of the city and packed a lunch. On that day, many people were crowded because celebrities performed at an outdoor concert hall. I was playing in the water at a fountain because the heat started early that day in those years. At the beginning of the show, we had to move to a different spot, but I insisted that I would stay here and play. After playing for a long time, I suddenly realized, "Where is my mom?" and searched endlessly to find my family.
A middle school student passing by took me to the police station. I was crying, and they asked me this and that, and all I remember was my age, my name, and my father's name. My relatives used to say that I was smarter than my peers, that I knew my address, home phone number, and neighborhood where I lived, but I was in shock and couldn't remember at the moment. I was sent to a lost child shelter, where I spent the day. The next day, my mom came running to me crying, with her heavy, pendulous abdomen due to the later weeks of pregnancy. I was lucky, to think about it now. It was a time when there were often cases of illegal adoption abroad, even though there were parents.
My mom said, "Let's go home," but I wasn't going to go home; I liked it there. The shelter was a very luxurious house; the snacks and rides were excellent, and the caretaker was very kind. Actually, I have "second-daughter syndrome." I have a self-reliant personality that is not noticed by anyone.
Since then, neighbors have sometimes made fun of Namsan's daughter, for him losing his daughter in Namsan, because my father's name is the same as the place we went to!
When I see abandoned children meeting their parents on television, I guess I am destined to live in the US. When I think about my experience and how I might have been living another life somewhere here in the US, especially life in Minnesota and Wisconsin. Wisconsin is one of the states that accommodated many orphans from Korea
---
English Language Learning at CVTC
Now is the perfect time to learn the English language. Our services and friendly staff are available virtually to support your personalized educational goals. Get started today.
---
Read More Stories